Welcome to USGS !
The Upper Shore Genealogical Society of Maryland is celebrating its 41st Anniversary. Founded in 1973, the USGS is a 501(c)(3) non-profit organization run by volunteers and covers Caroline, Dorchester, Kent, Queen Anne's and Talbot Counties on the Eastern Shore of Maryland. The USGS began following a genealogy class for beginning researchers, held at the Chesapeake College in Wye Mills, Maryland. From the initial class of fourteen, the organization now offers information and assistance to more than one hundred members. We welcome you to trace your family genealogy and history, visit the USGS Research Center and USGS Bookstore, and become a member of USGS.
---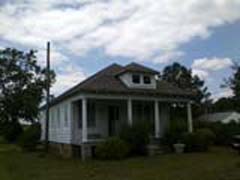 USGS Research Center
12156 Greensboro Road
Greensboro, Maryland
The Upper Shore Genealogical Society Research Center is located on MD Route 313, Denton-Greensboro Road in Caroline County, Maryland, and is staffed by volunteers.
The USGS Research Center and the USGS Bookstore are open to the public every Saturday from 10 a.m. to 3 p.m., except Federal holiday weekends or inclement weather. To verify the Research Center opening times or if you are planning a visit to the area and need to come on a different day or time and would like to schedule an appointment, please contact Jean Kelly at 410-482-8072.
The Research Center houses collections of family histories, Bible records, research books, and more, available for your use. We also have cd's, microfilm, and microfiche, including records from Maryland, Pennsylvania, Virginia and Delaware. Some periodical records are also available to search. All collections are for in-house use only.
Donations of used or new books, published or unpublished family histories, along with cd's, microfilm and microfiche are welcome.
Contributions to the Research Center may be sent to USGS, P.O. Box 275, Easton, Maryland, 21601.
---
USGS Meetings
General meetings are held at the USGS Research Center at 2 p.m. on the third Saturday of the months of January, March, May, September and November.
A forum for exchange is provided at these meetings with a problem solving session devoted to questions and answers from members who are experiencing difficulties in their genealogical research.
Meeting time and place may be verified by calling 410-482-8072.
---
Chesapeake Cousins
Chesapeake Cousins is the Society's journal helping to further the research of our members. Published twice per year in the Spring and Fall (April and October), it contains a wide variety of articles submitted by members. The articles include family charts, bible records, newspaper abstracts, military records, tax records, census records, family histories, depositions, pension lists, emigration lists, book reviews and articles of genealogical and historical interest.
If you are a member and would like to contribute to the Chesapeake Cousins Journal, please submit your article to Jean Kelly, USGS of MD, P.O. Box 275, Easton, Maryland, 21601, or call Jean Kelly at 410-482-8072.
Back issues of Chesapeake Cousins, consisting of 40 years of genealogy, history and research material (77 issues) may be purchased from the USGS Bookstore on e-book format (CD-ROM in PDF searchable format).
---
Cousin to Cousin Newsletter
The Cousin to Cousin Newsletter keeps our members informed of operational changes and activities, along with acquisitions of new books and family histories, meeting dates and topics and whatever else we believe to be of assistance. It is published three times per year in the months of February, June and October. Questions, comments or submissions to the Cousin to Cousin Newsletter may be addressed to Mary Engle, mfe37@verizon.net.