USGSMD Calendar
Our 49th Year !
---
USGSMD Research Center
12156 Greensboro Road
Greensboro, Maryland 21639
Directions
The USGSMD Research Center will be open on Saturdays (except holiday weekends), from 9 AM - 2 PM. We will open in compliance under guidelines from the Caroline County Health Department. The specific planned dates are as follows:

2022
SEPTEMBER
Sep 03,10-Closed, Sep 17, 24
OCTOBER
Oct 01, Oct 08-Closed, Oct 15, 22, 29
NOVEMBER
Nov 05, Nov 12-Closed, Nov 19, Nov 26-Closed
DECEMBER
Dec 03, 10, Dec 17-31-Closed
To try to arrange a special appointment at other
times, please contact us by email at usgsmd@yahoo.com.
Membership meetings are open to the public and are held on the second Saturday of the months of January, March, May, September and November at 1:00 p.m.
---
Upcoming Events:
---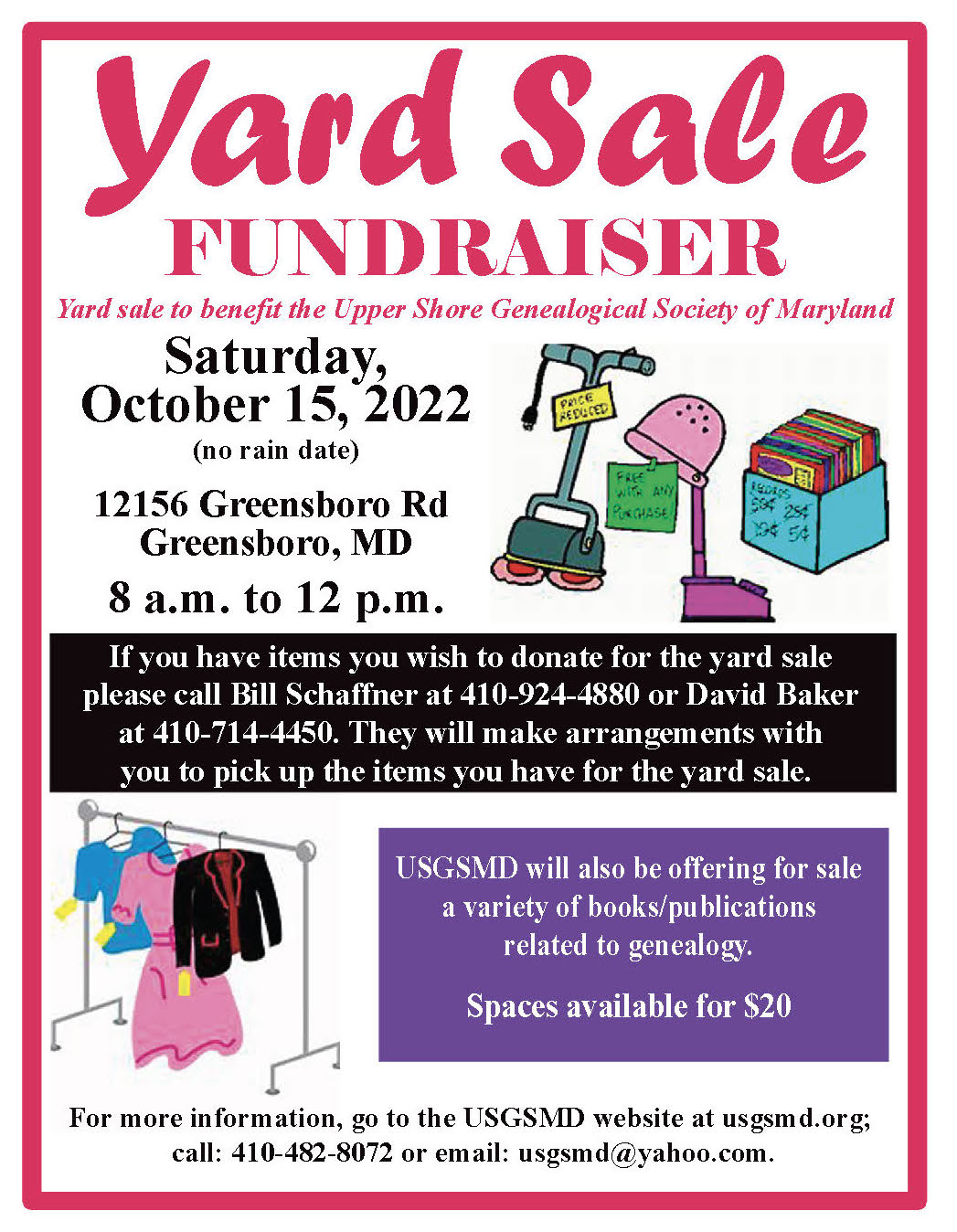 ---
The next membership meeting is at 1 PM, November 12th, 2022, location and speaker pending. This will be updated when finalized. Information to enable remote attendance via a Microsoft Teams meeting has been sent to all members by the membership email list. As always, our meetings are open to the public.
---
Sample of Past Events:
---
A Wedding in 1806
The meeting was at 1 PM, January 8th, 2022, at Caroline County Library, 100 Market Street, Denton, MD 21629. We featured Robert Jarrell as our speaker, the author of A Wedding in 1806.
-
A Wedding In 1806
covers a period from 1665 to 1894, starting with the earliest American generations of Jarrells, Powells, and Slaughters as they and their families weaved their way through life. By 1806 two of their descendants, Margaret Slaughter and Richard Jarrell, were standing in a Methodist meetinghouse exchanging wedding vows.
- The research for the book was done, as much as possible, through viewing primary sources, ancestral records found in the Maryland, Delaware, and Pennsylvania Archives. Much time was also spent visiting the collections found at Swarthmore College's Friends Historical Library, Barrett's Chapel, the Maryland Historical Society, the Delaware Historical Society, the Historical Society of Pennsylvania, the Talbot County Free Library, and the Caroline County Public Library. Add to this the academic studies published about life and economic conditions in early Maryland, Delaware, and Pennsylvania, A Wedding in 1806 is a mixture of family history and local history.
- Bob briefly discussed his book but concentrated on a couple of subjects covered in the book – early Talbot County immigrants, some paying their passage to Maryland and some not, and, secondly, the ninety-year fight between the Penn and Calvert families over ownership of the Delmarva Peninsula.
---
Growing Up In Greensboro
The meeting was at 1 PM March 13, 2021, held at American Legion Post 29. Our guest speaker was Larry Porter, who gave a talk titled "Growing up in Greensboro". This event was open to the public with some capacity and social distancing restrictions in place due to the current COVID issue.
---
Genealogy, DNA and Family Diseases



March 14, 2020
1:00 p.m.
Location: Caroline County Public Library
Denton, Maryland
2nd Floor Large Meeting Room
Open to the public.

Membership Meeting to begin at 1:00 p.m. followed by lecture Genealogy, DNA and Family Diseases presented by Sue Clabaugh, LPN and Liz Stitely.
---
Men of Color From the Lower Eastern Shore
Who Served in the Civil War